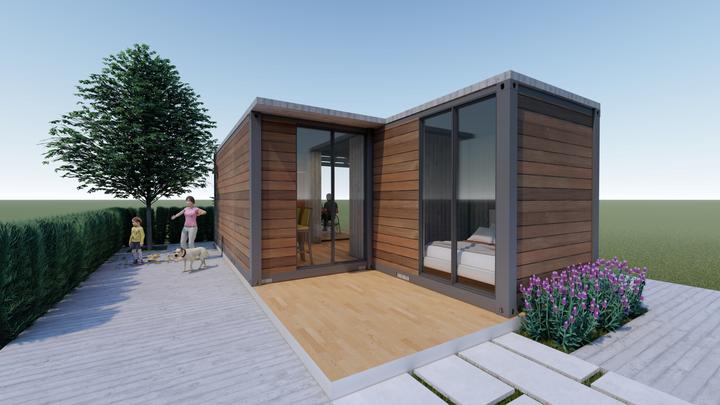 Tips on Choosing Shipping Containers for Domestic Use
Tips on Choosing Shipping Containers for Domestic Use
In the last few years, shipping container homes have become immensely popular in Kenya. The popularity of these structures results from their durability, strength, affordability, and environmental friendliness.
Interestingly, Mr. Peter De Maria, a US national, recently made history, becoming the first person to design a two-story container home. Since then, people of all walks of life have used shipping containers in designing jaw-dropping homes, high-end hotels, offices, and shopping malls of all kinds.
Safety Precautions to Consider When Buying a Shipping Container for Domestic Use
Getting a suitable shipping container for the construction of a home can be a daunting task. This article looks at tips to help you get the value for money when purchasing a used secondhand container.
Check the Container Quality
Several factors determine the price of a secondhand shipping container. These include the condition of the shipping container, volume, and range.  There are different prices from market to market. Some of the containers in the Kenyan market include:
One- Trip Shipping Containers: The container has made only a single trip carrying cargo across the sea.
Cargo -Worthy Containers: Such containers satisfy international industry standards. The containers are certified for transporting by road or rail.
Grade A Containers: this type looks old but still maintains its structural integrity, is watertight with fully functional bars. It has no holes.
Grade B Containers: these have no guarantees on their condition, structural functionality, and rust conditions, which vary between light and heavy.
Premium Containers: These are aesthetically ideal containers.
Reconditioned Shipping Containers: these are new containers that have undergone a thorough inspection and repair.
Before you buy any containers for domestic use, don't hesitate to ask the seller how old the container is. More often than not, secondhand shipping containers have a history of shipping conditions which can impact negatively on their structural integrity.
 Only Buy Containers that are inspected in Advance
When selecting a shipping container for home construction, use the pictures provided to determine the container's dimensions and conditions. If you plan to buy the same size and type of containers, request photos of the containers you intend to purchase. Visit the site personally for inspection purposes.
During the physical visit to the site, inspect the exterior parts of the container. Carefully walk around the container to check the overall condition. The conditions include the paint, corner casting, and seals around the edges. Though dents may not present a serious risk, it is advisable to check noticeable parts of the container for rust and corrosion. You should also check for structural or aesthetic blemishes that are potentially risky.
After inspecting the exterior, check the doors for any sign of damage, proper locking and sealing, and the door-fittings condition. You should also check the seals, gaskets, and overall locking mechanisms. Remember to open the doors to smell inside to check for any sign of rust or mold. The presence of rust and mold may indicate a future possibility of leaking. To confirm whether the shipping container is watertight, close the door during daylight while inside to see whether the light penetrates.
If you can't travel to physically check the container, ensure that you check both the interior and exterior during delivery. Thus, you can confirm if it matches what you ordered. Usually, all container purchases come with a certified condition guarantee.
Confirm the Weather Sustainability and Security Characteristics of the Container
Ideally, cargo container designers ensure they can survive in harsh environments. However, before deciding to buy, always check that the container is up to the task. Essential considerations include resistance to wind, the ability to prevent rodent infestation, a conducive living environment, and safety and security characteristics from possible break-ins and vandalism.
Check for Modification Provisions
Before you buy any of these shipping containers for domestic use, spare some time to check whether the container can support the necessary modifications. Many shipping container companies offer design and modification services. You may decide to work with the company to help you install doors, windows, security locks, shelving units, and the ventilation system.
Arrange for Transportation and Convenient Delivery
Shipping Containers are challenging to transport from one location to another. It's also an expensive exercise. This owes to their weight and size. Thus, consider buying them from local dealers. Knowing the exact location and position, you want your container delivered will help you save on transportation costs. Always have an alternative plan in place in case of accessibility challenges.
Determine the Features Needed for the Required Shipping Container
The extra features on your shipping container will depend on the type of housing you need. You can either buy a shipping container that is connected with electricity or one that is refrigerated. If you want more access to your container home, consider buying one with doors at both ends and one of the sides.
Decide Whether to Buy a Secondhand, Refurbished, or New Shipping Container
There are pros and cons to all suggested options. However, buying new shipping containers will save you from lots of headaches. Although you will spend some extra money, you may find that new shipping containers come with fewer problems. If you have a constrained budget, go for a refurbished or secondhand cargo container.
Determine the Size of the Ideal Shipping Container in Advance
Shipping containers come in different sizes. Ideally, shipping containers are 2.44m wide and 2.59m tall. Other containers can be either 10ft, 20ft, or 40ft long.  Only buy a shipping container that best fits your specifications.  To avoid costly mistakes, take time to think about your home's size and which container will work best.
Final Thoughts On Choosing Shipping Containers for Domestic Use
Building a home using shipping containers is an exciting new possibility. No wonder, in these days of sustainable, eco- friendly living, the idea of using refurbished containers is increasingly becoming popular.  Regardless, while budgeting for that dream container home, don't forget to take the necessary precautions. This is essential.
The ideas discussed here can prove to be valuable as you plan to build your dream container home. Get in touch with Container Investment Kenya for quality shipping containers that suit your specific needs and desires. We will quickly ensure you get precisely what you ask for and more.